Main Street Unionville, Ontario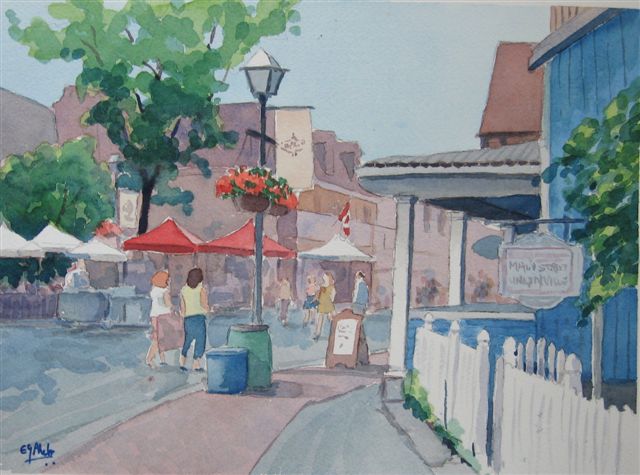 Let the old world charm of Unionville beckon and beguile you. Make Main Street Unionville a part of your life! It's worth the trip.
Country goodness plus a dash of modern pizzazz makes for a perfect blend called Historic Main Street Unionville. Stores of historical significance, friendly faces to warm your heart, and family-oriented business establishments give this quaint old Street a special place in the hearts of people who visit.

All season long Main Street Unionville has a lot to offer. Summer time ushers in a deluge of flowers, encompassing all your senses with a feeling of well-being. Beautiful tropical plants in half whiskey barrels and hanging pots abound celebrating new life!

It's time to be good to yourself. Treat yourself to a relaxing stroll around the block. Stop and shop at the variety of stores, boutiques and galleries. Indulge in some culinary delights. Wouldn't you like to be tempted by a piece of homemade apple pie, a scrumptious cheesecake or divine black forest cake? How about some mouth-watering juicy steak, or some good ol' fashion burgers? Be it fine dining or some comfort food, a variety of restaurants and bars are here to cater to your every whim.

There's something for everyone, be it crafts, jewelry, clothes, antiques or galleries. Pamper yourself for a relaxing afternoon with choices of spas and salons.

Main Street Unionville provides a wide array of women's and men's fashions from Paris, Rome, New York, California, Sweden, Montreal and more. Accessories and shoes are also available to add more to your shopping delight. The variety of clothes range from sportswear, business, casual, formal, bridal wear to intimate apparel.

On Historic Main Street Unionville a number of joyous festivals and celebrations are held such as:
Unionville Festival
Canada Day Celebrations
Unionville Celtic Feis
Unionville Summer Concert Series
Unionville Jazz on Main Street Festival
Markham Jazz Festival
Unionville Simcoe Day Festival
Halloween on Main Street Unionville
Olde Tyme Christmas & Candle Light Parade
So what are you waiting for? Visit and fall in love with Main Street Unionville and surely you'll come back for more.
Main Street Unionville Business Listing
Art Galleries
The One Gallery
McKay Art Centre
Du Art Gallery
Varley Art Gallery

139 Main Street Unionville
197 Main Street Unionville
206 Main Street Unionville
216 Main Street Unionville

905-475-1118
905-477-9511
905-251-7870
905-477-9511
Bar
Unionville Arms Pub & Grill

189 Main Street Unionville

905-470-8831
Children's Fashion
Sweet Pea Children's Boutique

178 Main Street Unionville

905-489-2012
Coffee Shops
TooGood Cafe
Timothy's World Coffee
Starbucks Coffee

142 Main Street Unionville
182 Main Street Unionville
201 Main Street Unionville

905-940-2366
905-415-3956
905-944-0703
Dentistry
Markham Dental Care

182 Main Street Unionville

905-477-6220
Esthetics
Peace Valley – Cosmetic Nail Art

182 Main Street Unionville

905-258-0300
Crafts & Gifts (One of a Kind)
Mary's Yarns
A Wee Bit O' Dis N' Dat
Lou Lou Beads
Unionville Trading Post
Match Ups
Cigar Bodega
Blossom Bath & Body

136 Main Street Unionville
144 Main Street Unionville
151 Main Street Unionville
154A Main Street Unionville
154A Main Street Unionville
205 Main Street Unionville
205 Main Street Unionville

905-479-7833
905-604-2961

905-479-2085

905-513-1810
905-479-8311
Food
Old Firehall Confectionary
Mariani's Market on Main
Edible Arrangements

170 Main Street Unionville
190 Main Street Unionville
209 Main Street Unionville

905-415-9192
905-474-9240
905-947-9555
Home Furnishings
Niche Decor
Distinct Living
The Queen's Pantry
Muni Carpets
Hawthorn Kitchen & Design

147A Main Street Unionville
161 Main Street Unionville
176 Main Street Unionville
190 Main Street Unionville
193 Main Street Unionville

905-479-8385
905-477-8717
905-477-4625

Ice Cream Parlors
Flavours of Unionville
Ice Cream Shop
Polar Bar

155 Main Street Unionville
187 Main Street Unionville
194 Main Street Unionville



905-479-3834
Jewellery
Silver Lilac Jewellery

209 Main Street Unionville

905-305-1945
Ladies Fashion
Treasure Towne
Paloma Fashions
Paris Boutique
Tabi
Blossom Lounge
Kriss – Made in Sweden
What Girls Want
Enjoy Fashion Co.
Linea Intima
D'Medici Shoes
Zeita Shoes & Accessories

151B Main Street Unionville
156 Main Street Unionville
157 Main Street Unionville
157 Main Street Unionville
157 Main Street Unionville
159 Main Street Unionville
158 Main Street Unionville
177 Main Street Unionville
178 Main Street Unionville
190 Main Street Unionville
209 Main Street Unionville

905-305-0057

905-470-1742
905-948-9693
905-479-8355
905-479-2022
905-305-0999
905-474-5688
905-947-1744
905-948-9669
905-305-1127
Men's Fashion
Mariami's Custom Clothiers

190 Main Street Unionville

905-477-0808
Real Estate Agents
Remax Classic Properties
Royal LePage – Your Community Realty
JDL Realty Inc.
Sylvia Morris – Century 21
Stephen Tar – Century 21

141 Main Street Unionville
161 Main Street Unionville
190 Main Street Unionville
206 Main Street Unionville
209 Main Street Unionville

905-947-9300
905-940-4180
905-604-3977
905-477-7785
905-475-2100
Restaurants
Dragon Bistro
Ambiyan
Blacksmith's Bistro
Unionville Pizza Co.
Il Postino Restaurant
Unionville Mediterrean House
Unionville Arms Pubs & Grill
Old Country Inn
Jakes on Main Pub & Grille
La Grotta Restaurant

139 Main Street Unionville
149 Main Street Unionville
166 Main Street Unionville
175 Main Street Unionville
186 Main Street Unionville
187 Main Street Unionville
189 Main Street Unionville
198 Main Street Unionville
202 Main Street Unionville
205 Main Street Unionville


905-480-0094
905-305-0503
905-944-9463
905-940-1555
905-604-4117
905-470-8831
905-477-2715
905-470-6955
905-940-0235
Salons
Terra Hair Studio
Carelli Hair Studio
V.I.P. Hair Studio
Sarum Room

139 Main Street Unionville
142 Main Street Unionville
155 Main Street Unionville
160 Main Street Unionville

905-477-8694
905-477-1899
905-513-6733
905-946-1995
Services
Unionville Investments
Pebble Interactive Marketing
Naturopathic Health Solutions
Montagne Jeunesse
Unionville Dog Grooming Inc.
Toronto Litho Art Ltd.
Bochner Eye Institute
Leaf Design
The Ancient Mystic Boutique & Reading Room
Purkel Products
Balance for Life Women's Heath
Dimensional Products
Anyware Group
Clear Space Design
Queen's 400
Bell – Global Telecom Network
Minken & Associates

139 Main Street Unionville
139 Main Street Unionville
139 Main Street Unionville
139 Main Street Unionville
142 Main Street Unionville
145 Main Street Unionville
147 Main Street Unionville
151 Main Street Unionville
154A Main Street Unionville
155 Main Street Unionville
157 Main Street Unionville
157 Main Street Unionville
157 Main Street Unionville
159 Main Street Unionville
178 Main Street Unionville
190 Main Street Unionville
190 Main Street Unionville


647-427-5782
905-604-2491
905-415-9267
905-947-9009
905-940-1922
905-470-2020
905-752-1026
905-201-7281
905-947-1667
905-477-7775
905-947-8199
647-406-2285
905-479-9788
905-477-4744
905-477-9222
905-477-7011