About Markham's Geography, History, Government, and Population

Markham, Ontario, Canada is a diverse and dynamic city located in the Greater Toronto Area. It is home to a vibrant and growing community, with a rich history, diverse population, and unique geographical features. Understanding the geography, history, government, and population of Markham is important for anyone looking to learn more about this fascinating city. In this article, we will provide a comprehensive overview of Markham, covering its geography, history, government, and population.
Markham's Geography
Markham's location in southern Ontario, Canada, makes it a strategic and important city in the Greater Toronto Area. Situated approximately 30 kilometers northeast of downtown Toronto, Markham is easily accessible by major highways and public transportation. This proximity to Toronto has helped to drive the city's economic growth and development, making it a hub for commerce, industry, and innovation.
However, Markham's history and location also remind us of the important role that Indigenous peoples have played in shaping the region. The city is situated on the traditional territory of the Huron-Wendat, Haudenosaunee, and Anishinaabe peoples, who have lived in the area for thousands of years. Today, Markham continues to work with Indigenous communities to acknowledge and celebrate their contributions to the region, and to ensure that their perspectives and voices are heard in discussions about the city's future.
Climate and Weather Patterns
Markham experiences a humid continental climate with warm summers and cold winters. The average temperature in July is 23°C, while the average temperature in January is -7°C. The city also experiences significant precipitation throughout the year, with an average annual rainfall of 926 mm.
Geographical Features
Markham is characterized by a unique landscape that includes forests, wetlands, and agricultural land. One notable feature is the Markham Valley, a natural ravine system that runs through the city and is home to a variety of plant and animal species. The Markham Valley Trail provides an opportunity to explore this natural feature and enjoy the outdoors.
Natural Beauties
Markham is home to a wide variety of natural beauty, including forests, wetlands, and parks. These natural features provide a unique and picturesque landscape that is appreciated by residents and visitors alike.
One of the most notable natural features in Markham is the Rouge River, which runs through the city and is a popular destination for hiking, fishing, and birdwatching. The river is home to a variety of fish species, including trout and salmon, and is an important part of the region's natural ecosystem.
Markham is also home to several parks and green spaces, including Milne Dam Conservation Park, Toogood Pond Park, and the Markham Civic Centre Conservation Area. These parks offer a range of recreational activities, from hiking and cycling to picnicking and sports. They also provide important habitats for local wildlife, including birds, mammals, and reptiles.
In addition to these natural features, Markham is home to several farms and agricultural lands. The city has a long history of farming and agriculture, and this heritage is celebrated through events such as the Markham Fair, which showcases local agricultural products and traditions.
Markham History and Early Years
Markham has a rich history that dates back to the early 19th century. It was originally settled by European colonizers, who established a farming community in the area. Over time, Markham grew and evolved, becoming a hub of industry and commerce in the Greater Toronto Area.
Historical Events and Milestones
Markham has a long and storied history that includes several notable events and milestones. Some of the most significant moments in Markham's history include:
The establishment of the first post office in Markham Village in 1832.
The construction of the Markham Village train station in 1871, which helped to spur economic growth in the area.
The establishment of the Markham Fair in 1844, which remains a popular annual event to this day.
The construction of the Highway 404 extension in 1999, which connected Markham to the rest of the Greater Toronto Area.
Notable People and Families
The city has been home to many notable people and families throughout its history. Some of the most well-known figures include:
William Berczy, a German artist and settler who helped to establish Markham in the 19th century.
The Cornell family, who were prominent landowners and farmers in Markham throughout the 19th and 20th centuries.
Fred Varley, a member of the Group of Seven and a resident of Markham in the 1940s.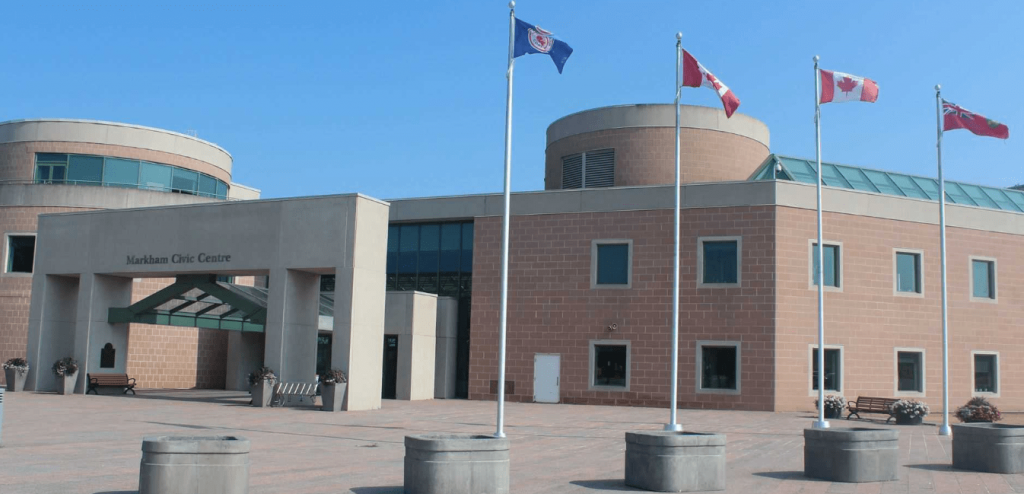 Overview of Markham's Government and Council
The city has a robust system of government that is designed to serve the needs of its residents. The city is led by a mayor and council, who are responsible for setting policy and making decisions on behalf of the community.
Structure of Government and Council
Markham's government is divided into several departments, each of which is responsible for a different area of the city's operations. These departments include:
Economic Growth, Culture, and Entrepreneurship
Corporate Services
Planning and Urban Design
Community and Fire Services
Development Services
Markham's council is made up of a mayor, deputy mayor, and nine councillors, each of whom represents a specific ward in the city.
Roles and Responsibilities of Markham's Elected Officials
The elected officials have a wide range of responsibilities, including:
Setting the city's budget and financial priorities.
Making decisions on land use and development.
Managing the city's infrastructure and public services.
Establishing policies and programs to promote economic growth and community well-being.
Representing the interests of their constituents and responding to their concerns and needs.
Current Issues and Challenges Facing Markham's Government
Markham's government and council face a number of pressing issues and challenges, including:
Balancing the need for economic growth with the desire to preserve the city's natural environment and historical character.
Addressing issues related to traffic congestion and transportation infrastructure.
Providing affordable housing and addressing issues related to homelessness.
Ensuring that the city remains inclusive and welcoming to people from all backgrounds and walks of life.
City's Population and Demographics
Markham has a diverse and rapidly growing population, with a total population of approximately 360,000 people. The city is home to a wide range of ethnic and cultural groups, reflecting the diversity of the Greater Toronto Area.
Overview of Population and Demographic Makeup
The city's population is characterized by a number of demographic trends and features, including:
A high percentage of immigrants, with approximately 60% of the population born outside of Canada.
A large number of Chinese Canadians, who make up approximately 45% of the visible minority population in the city.
A relatively high median household income, which is approximately $97,000.
A relatively low unemployment rate, which was 5.2% in 2022.
Diversity and Multiculturalism in Markham
Markham is known for its diversity and multiculturalism, with residents from a wide range of ethnic and cultural backgrounds. The city celebrates its diversity through a range of cultural events and festivals, including the Markham Festival of Lights, the Markham Village Music Festival, and the Taste of Asia Festival.
Changes and Trends in Population over Time
Markham's population has experienced remarkable growth over the past several decades. According to Statistics Canada, the city's population more than doubled from approximately 155,000 in 1990 to over 350,000 in 2022. This represents a growth rate of over 120% in just three decades.
This growth has been driven by a combination of factors. One major factor has been immigration, with Markham attracting a large number of immigrants from around the world. In fact, according to the City of Markham, approximately 60% of the city's population was born outside of Canada. This influx of new residents has brought with it a rich diversity of cultures, languages, and perspectives, contributing to the city's vibrancy and dynamism.
Another factor contributing to Markham's population growth has been natural population growth, with the city experiencing a higher birth rate than death rate. This is due in part to the fact that Markham has a relatively young population, with a median age of 39 years. As a result, the city is experiencing a demographic shift towards a younger population.
Finally, the expansion of the Greater Toronto Area has also played a role in driving Markham's population growth. As Toronto and its surrounding areas have grown, Markham has become an increasingly attractive destination for people looking to live in a vibrant and diverse community that offers easy access to the amenities and opportunities of a major metropolitan area.
History Is Important
Understanding the geography, history, government, and population of Markham is essential for anyone looking to learn more about this dynamic and diverse city. Markham's unique combination of natural beauty, rich history, and vibrant community make it a fascinating and rewarding place to explore and study. By gaining a deeper understanding of Markham, we can better appreciate its strengths and challenges, and work together to build a brighter future for this remarkable city.